Our Sustainability Efforts
in partnership with Hazon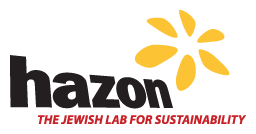 JPro22, Going Places, Together, will be a community gathering of >1,000 Jewish professionals, convened by JPro and JFNA. We recognize our Jewish responsibility to be shomrei adamah, guardians of the Earth, and made many choices throughout the planning process to minimize our negative environmental impact. JPro is proud to partner with Hazon on these efforts. 
• JPro22 is happening at the Huntington Convention Center of Cleveland, which has many sustainable features: recycling, water bottle re-fill stations, onsite Grind2Energy Program that converts the food we waste to energy and soil nutrients, a 14-acre green rooftop, and a smart lighting control system. Learn more here.

 • Our food system is the source of ¼ - ⅓ of total global greenhouse gas (GHG) emissions! Within the food system, the biggest contributors to climate change are food waste and industrial meat and dairy. At JPro22, efforts will be made to keep food waste to a minimum: all donatable leftovers will be donated to The Ed Keating Center and non-donatable food scraps will be used in the Center's onsite Grind2Energy Program. All food events for JPro22 at the Convention Center will be vegetarian, all will include fully plant-based options, and all will be delicious!
 • We are providing buses for transportation for portions of the program. We wrote into our contract with the bus company that buses may not idle when parked. Idling buses cause air pollution as well as needlessly waste fossil fuel. It is a myth that restarting causes more pollution and waste than idling; if idling for more than 3 minutes, it is better to turn the bus off. For personal vehicles, it's only 10 seconds before restarting is better than idling!
 • The greatest climate impact of JPro22 is the travel by participants to attend. So, the largest sustainable action taken was to make the General Sessions available live virtually and the workshops available virtually at a later date as "Encore" sessions. This will enable hundreds of people to enjoy the offerings of the event without GHG emissions from travel. And, for those who do travel to Cleveland, we are offering in the swag store a GHG offset option that is both impactful and symbolic. You can use this calculator to estimate the amount of GHG emissions generated by your travel. Then, in the swag store you can donate to plant one or more trees through the JTree campaign. Learn more about tree planting and carbon offsets here.
 • We are also: going primarily linen-less to minimize washing of linens, reducing use of paper, significantly slimming the number of large signs, limiting how much free swag we are distributing to all participants, and not offering bottled water (it takes three liters of water to make and package the average bottle of water and bottled water consumes 2,000 times more energy than tap water)!
We are in a climate crisis and Jewish tradition compels us to respond. Combined, the actions above significantly reduce the negative impact of JPro22. Hazon is proud to work with JPro, JFNA, and many other Jewish organizations to craft and implement climate action plans. Learn more at Hazon.org and contact info@hazon.org.