The Mandelkorn Distinguished Service Award
At JPro22, we will celebrate and honor seven talented Jewish community professionals. 
The Mandelkorn Distinguished Service Award recognizes individuals who have made significant and enduring contributions in the Jewish nonprofit field. Read more about this year's honoree below, or click here to learn about the JPro Young Professional Award. 
JPro is thrilled to present the 2022 Mandelkorn Award to THEODORE COMET.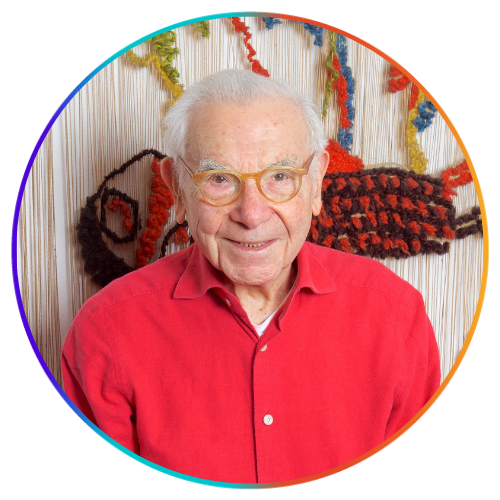 Ted Comet is Honorary Associate Executive Vice-President of JDC.  He has been involved in Jewish communal affairs since the end of World War II when he served in France as a student volunteer in a JDC program to rehabilitate war orphans. His major career concerns have been meeting the needs of Israel and world Jewry.

In 1990 he joined JDC becoming its Associate Executive Vice President.  It was a dramatic time as the downfall of Communism permitted entrée to Jewish communities in the former Soviet Union and Eastern Europe. There were major undertakings to help Jews now free to leave, to rebuild local Jewish communities and to care for the large number of dependent elderly.
This was also a period of dramatic rescue from Ethiopia and Sarajevo, and saving the financially ruined Argentine Jewry. He led many missions to the former Soviet Union, Eastern Europe, North Africa, India and Latin America.
Since 1997 he was Executive Vice President of the World Council of Jewish Communal Service, an international association of Jewish communal professionals, which through Quadrennial gatherings in Jerusalem, regional conferences  and publications fostered networking and interchange to enhance the skills of professionals in dealing with the growing challenges facing Jewish communities.
From 1968-1990, Ted was Assistant Director of the Council of Jewish Federations where he wore multiple hats:
• As Director of International Affairs his responsibility was to assess the needs of Israel and Jewish communities world-wide,  shaping the response of Federations which he helped evolve from philanthropy to partnership, as the primary funders of JDC and JAFI.
• As Director of Human Resource Development he initiated activities to attract and retain young leaders, as well as programs to deepen the knowledge base and leadership skills of Board members
• As Director of the annual CJF General Assembly he helped make it the central gathering of American Jewish leadership, imbuing it with stronger Jewish content and adding the presence of young leaders and representative of Jewish communities overseas.
• As the first Director of Project Otzma, he established a new program to bring gifted young people to Israel for volunteer service, many of whom later entered the Jewish communal field.
From 1956-1968 Ted was National Director of the American Zionist Youth Foundation,  the central sponsor of Israel programs for American Jewish youth. He was founder/chairman of the Israel Parade on 5th Avenue and produced Israel Folk Dance Festivals at Carnegie Hall and the World's Fair.
Long Active on behalf of Soviet Jewry, he served as volunteer coordinator of the Conference on Soviet Jewry and organized the first large scale public demonstration of solidarity. In 1972 he led the first mission of Federation leaders to the Soviet Union.
Deeply connected to the Holocaust, his late wife was a survivor, he represented JDC in its co-sponsorship at the Holocaust Museum in Washington of its first Conference on DP camps, where he delivered a paper on: "Life Reborn in the Displaced Persons Camps – an Untold Story of Courage."

Ted is a native of Cleveland, Ohio and a graduate of Yeshiva University.  He has two children, a daughter in Boston with a degree in Social Work and a son in Jerusalem who is a Clinical Psychologist. He has eleven great grandchildren and one great, great grandchild.
Read more about the history of the Mandelkorn award.